A desert music festival in December isn't everyone's cup of tea, but it's certainly mine after Desert Air last weekend. Having amassed a stacked lineup of underground electronic music acts, the brand-new event took flight at the Palm Springs Air Museum December 10 to 11. Backed by a historic B-17 airplane, producers like DJ Koze, Compton experimental hip-hop artist Channel Tres and Berlin-based South Korean DJ Peggy Gou kept an eclectic, die-hard-fan–friendly mix of house, techno and related subgenres going all weekend long at this new winter electronic festival. 
Organized by Goldenvoice and Splash House, the latter having held warmer season poolside events in Palm Springs since 2013, Desert Air hosted an estimated 4,000 attendees over a two-day Friday and Saturday schedule—which made it, for me, the perfect reason for a quick getaway to Palm Springs. In between, Desert Air also planned to offer daytime events, like a bike tour of mid-century Modernist homes, which framed the festival as more of a humanely paced weekend sojourn rather than a sprint-style rager in the desert.
"Oh my god! I love Channel Tres!" the salesperson told me at Melody Note Vintage the afternoon before festival gates opened. Despite living in the area, she hadn't heard of the festival, which ultimately brought together a musically like-minded crowd willing to spend up to eight hours in front of a single stage. 
Held in the second week of December, the off-season festival was a far cry from Coachella in terms of both size and overall vibe. (In my view, this is a good thing.) With the sun setting before 5 o'clock, ruining the light for most photo-ops, and evening weather dipping into the mid-40s, only the most ardent underground electronic music fans made their way to Desert Air, driving in from other parts of California or catching flights from the Bay Area, Seattle and in at least one case, New Jersey. 
Relatively chilly temperatures didn't stop people from dancing in the crowd until midnight, although attendees also could warm themselves with patio heaters in a seated dining area, which hosted three food trucks. A neon-lit pair of cubes housed groovy retro airliner and disco-themed photo backdrops by L.A.-based experiential designer Veronica Gessa in the hangar of an F-117 Nighthawk. Several bar stations kept themed cocktails, beer and wine flowing steadily as well as thankfully hot Irish coffee. 
However, a VIP wristband, which I received as a press pass, was easily worth its extra cost for added access to a partially enclosed hangar and reserved viewing area. Seated areas with plush bowl chairs, an actual restroom and, most importantly, protection from the punishingly cold air, made all the difference during a long evening. Inside the hangar, purple, red and blue-lit airplanes and small palm trees added to a more lounge-like feel. A largely empty VIP table section also housed extra heaters and seated front-row views of the stage.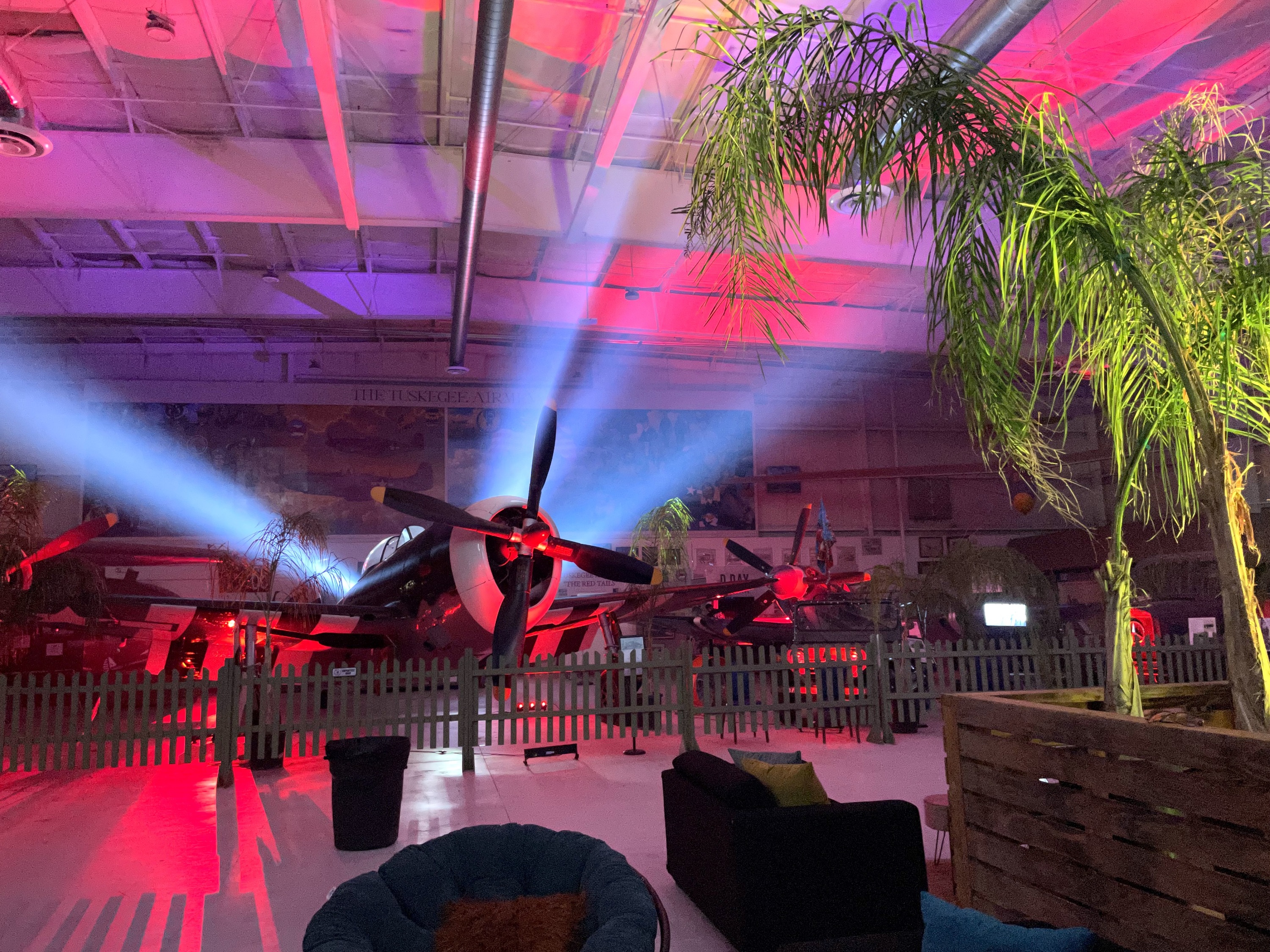 The following morning, Desert Air also offered several daytime events geared towards early risers, including a guided hike, a yoga class and soundbath and the Modernist bike tour. World War II history buffs and flight fanatics could also book rides on a Warbird. While I didn't wake up in time for the hike, I was able to check out the beginner-friendly Tahquitz Canyon, an approximately two-mile trail on the nearby Agua Caliente Indian Reservation, which charges a small fee for entry. Back poolside at the Saguaro, one of Desert Air's two partner hotels, tropical house played while a few people danced poolside and hung out in the jacuzzi. 
Lacking the stamina for the festival's full second day, I had an early dinner at Rooster and the Pig, a popular Palm Springs walk-in Vietnamese strip mall spot, before making it to the festival in time for a deep set by Moodymann, the legendary Detroit-based Black house producer. More packed than the day before, the crowd before the stage swelled as DJ Koze and, finally, Peggy Gou took to the stage. Having traveled 24 hours from Berlin to get to Desert Air, Gou played an energizing, often playful set that started off with her hypnotizing, childhood-inspired "I Go," whose lyrics are entirely sung in Korean. Since city ordinances ban loud music a little after midnight, Gou ended her set at 12:30am, tame by other festival standards.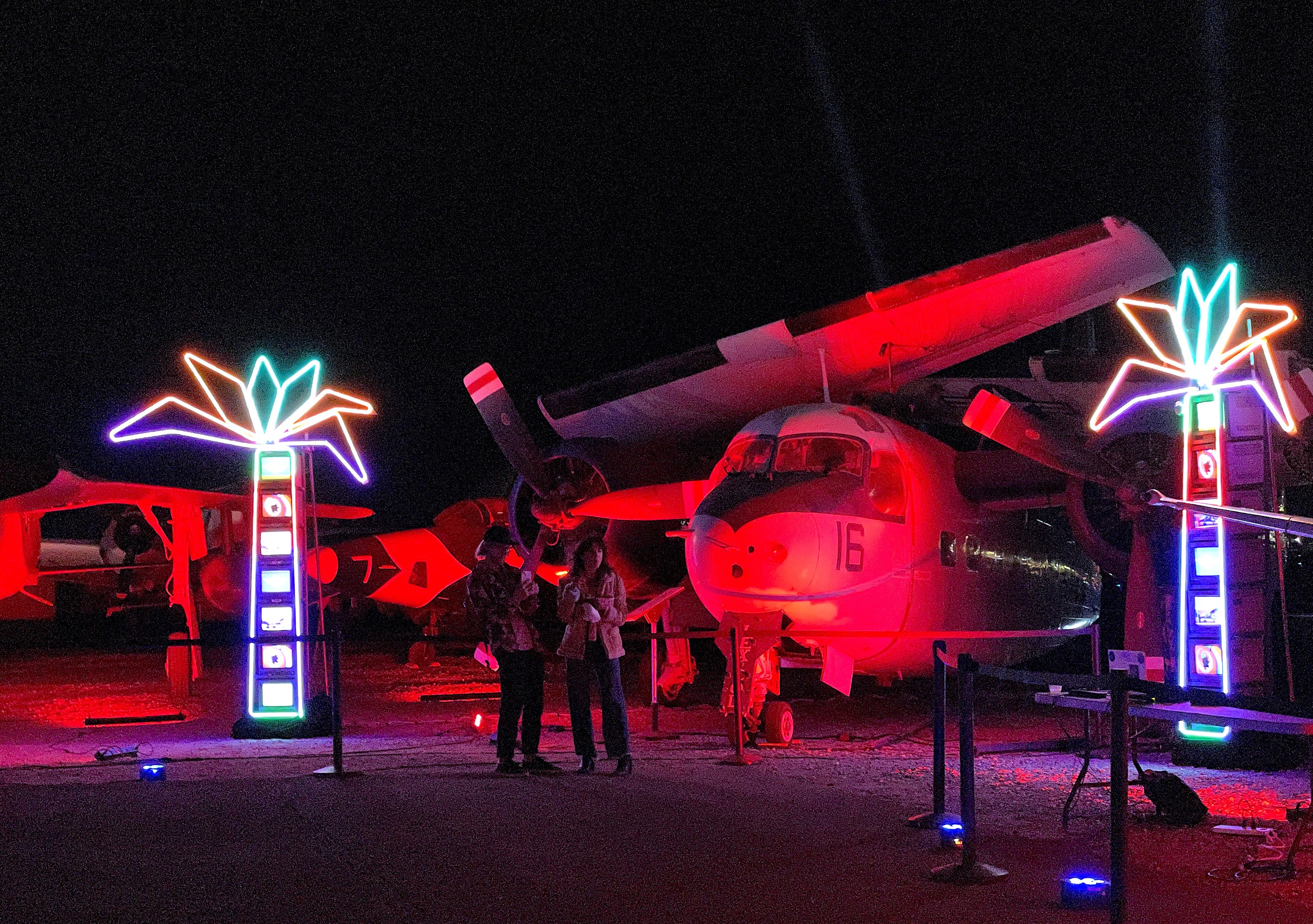 The well-run Desert Air struck me as more Burner-lite, somewhere between a Downtown after-hours show and Lightning in a Bottle. Shuttles kept fans moving between the Saguaro and the Renaissance, where Desert Air also sold hotel packages, and a designated rideshare area let others hail rides from the venue, which has no parking on site. Despite the SoCal almost-winter cold, the solid emphasis on underground electronic and well-tailored lighting and art made Desert Air an altogether worthwhile festival experience for me, and for anyone who enjoys house, techno and visiting Palm Springs. 




Source link