Ukraine expected to win Eurovision as Kalush Orchestra make Mariupol appeal on stage
Voting has opened in the Eurovision song contest, with the strong favourites Ukraine expected to triumph. They appeared twelfth in the running order of the show, and lead singer Oleh Psiuk shouted: "Please help Ukraine, Mariupol. Help Azovstal right now" from the front of the stage after the band performed.
In a video address released before the event, Ukrainian president Volodymyr Zelenskiy said he believed the Kalush Orchestra would win. "Europe, vote for Kalush Orchestra. Let's support our fellow countrymen! Let's support Ukraine!" he said.
Their song, which mixes rap with elements of Ukrainian folk music, was originally written in honour of the group's mothers. The group have subsequently rededicated it to all matriarchs in Ukraine, as lines such as "I'll always find my way home, even if all roads are destroyed" found new resonance. The six men who make up the group had to receive special permits to leave Ukraine and travel to Italy during the war.
While the actual Mika is doing his actual thing, let me remind you of how the voting works these days.
First off we go through the forty juries who:
Will announce the top few scores from their jury.
Will milk their thirty seconds for all it is worth causing the show to over-run. Every damn time.
Usually the juries – he said cynically – are arranged in such a way as to make it appear like a tight contest until one song streaks away, although I suspect that is harder to engineer this year. Ewan Spence suggested to me that as long as Ukraine have picked up 30-40 points from the first five juries to report they will probably be nailed on from that point.
After the juries, from last place to first place, the scores from the public vote across all of Europe are added. The record points total is 758. 500 or thereabouts will usually do it.
The actual Mika!
I am going to level with you that the main thing I remember from live blogging Eurovision last year is that once the juries started, it was an absolute blur. I'd barely typed "And in a huge shock Cyprus have given their 12 points to Greece" and we had moved on to another three juries. This is also why I have just ignored that desperately unfunny montage of old clips because, I mean, what is there to add? If you were watching, you saw how unfunny it was. If you weren't watching and just relying on the live blog, I've done you a public service.
Now I am old, but I am not quite old enough to get the nostalgia vibes for Gigliola Cinquetti. Here is what she looked like doing this Eurovision song back in 1964.
Bless Måneskin, they've really made the most of their chance, haven't they? You have to respect it.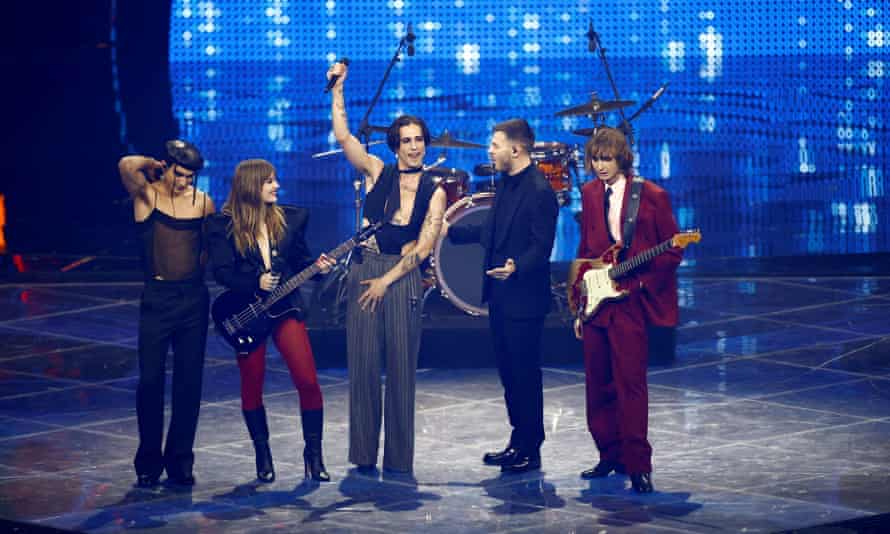 OH MY GOD THAT GREEN SCREEN SUIT DOES NOT LEAVE MUCH TO THE IMAGINATION. Worse than those Spain costumes!
Over 2,000 comments on this blog! Wow, thank you. Here are a few I just spotted summing up what you have thought of the evening:
Theibiijo: Definitely about the songs this year, some really good ones in there, didn't have any real duds. Voting will be interesting.
AndyPandy21: I have a feeling Spain will pick up a lots of votes, that top five is going to be a great battle.
GreenTwilek: It's all a bit fast for me, and I can hardly keep up with the blog and the BTL-comments.
Oh, I hear you GreenTwilek. I also enjoyed this from EssoBlue:
I preferred it when the contestants sang songs in their own languages. Now it's mostly in English, the contest is less interesting to me and I've stopped watching it.
But how do they know? *Twilight Zone music plays*
You will have to excuse me as I enjoy a slight breather while the voting goes on and the TV show is mostly recaps of what we have already seen.
UNEXPECTED ELVIS COVER VERSION IN THE BAGGING AREA
I wasn't a big fan of Måneskin myself but Angela Giuffrida in Turin interviewed them the other day and they sounded lovely. You can read that here:


Source link