Seattle has a James Turrell Skyspace, a chamber with an aperture in the ceiling that views the sky. The installation is at Henry Art Gallery, connected to the rest of the museum by a small footbridge.
Sponsored
It is called Light Reign and was completed in 2003. Enter the space on a sunny day and you will find it shady inside, with seating along the inner circular walls. Find a spot to sit and look up at the ceiling, with an oval shape in its center. It contains the sky, which is either gray or white if the day is cloudy, or pure blue if it is clear. If it's softly sprinkling, you may see a light rain coming through the hole (turning the title of the piece into a play on words). It's best when the sky is blue.
The whole purpose of this work is to spend a quiet moment or two with light—the foundation of life itself.
a tour of Seattle's James Turrell Skyspace at The Henry on Friday.
Sponsored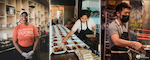 Source link